Biography
I qualified as a veterinarian from the University of Pretoria in 1993. Following a career as a State veterinarian I decided to pursue my long-time interest in veterinary diagnostics and joined the Department of Paraclinical Sciences at the Faculty of Veterinary Science as a clinical assistant in pathology in 2008. I supervised undergraduate final year students attending the pathology clinic rotations and obtained a Bachelor of Veterinary Science Honours in 2012. A post also became available at the Faculty in 2009 and I applied for and was offered a lecturer post in the section of Veterinary Public Health. However, I continued to teach both public health and pathology until 2011 when I started to work on an MSc degree. I submitted my MSc thesis in 2013 and the degree was conferred with distinction. The title of my thesis was "Sensitivity and Specificity of rRT-PCR, Histopathology, and Immunohistochemistry for the Detection of Rift Valley Fever Virus in Naturally-Infected Cattle and Sheep". I registered for my PhD in 2016 and the first paper was submitted in December 2017, entitled "Tissue tropism and target cells of natural Rift Valley fever virus infection in adult sheep." Two more papers are planned for the coming year.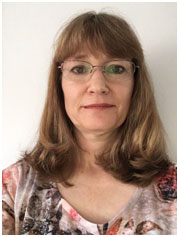 Abstract
Tissue and Cellular tropism of Rift Valley Fever Virus in sheep
Lieza Odendaal1,*, Sarah J. Clift1, Geoffrey T. Fosgate2, A. Sally Davis1,3
1 Department of Paraclinical Sciences, Faculty of Veterinary Science, University of Pretoria, Onderstepoort, M35, Pretoria, 0110, South Africa.
2 Department of Production Animal Studies, Faculty of Veterinary Science, University of Pretoria M35, Pretoria, 0110, South Africa.
3 Department of Diagnostic Medicine/Pathobiology, College of Veterinary Medicine, Kansas State University, K237 Mosier Hall, Manhattan, KS 66502, USA.
Rift Valley fever (RVF) was first characterized on a farm in Kenya in 1931. Due to limited studies of the tropism of natural RVF virus (RVFV) infection, sheep necropsied during the 2010 RVF outbreak in South Africa were examined by histopathology and immunohistochemistry. Liver necrosis is the most distinctive feature of RVF cases in adult sheep, but 64% (45/70) of the cases where liver, spleen and kidney tissues were available also had glomerular and acute renal tubular epithelial injury in addition to necrosis in both the liver and spleen. Acute renal injury was also more common than expected and in some cases the most significant lesion. Splenic necrosis was significantly associated with necrosis in the lymph nodes and changes identified in these organs were mirrored in the gut-associated lymphoid tissue. Other significant histopathological lesions included foci of necrosis in the adrenal glands, gallbladder, and small intestine, pulmonary edema and hemorrhages in the testis. RVFV antigen was detected in the liver, kidney, spleen, lymph nodes, lung, adrenals, heart, gastrointestinal tract, tongue, gallbladder, skin, uterus, and testis. The liver was most consistently positive for RVFV antigen followed by the spleen, kidneys, lung and skin. RVFV antigen positive cells included hepatocytes, adrenocortical epithelial cells, renal tubular epithelial cells, macrophages, neutrophils, epidermal keratinocytes, microvascular endothelial cells and vascular smooth muscle. Multiple samples of particularly the liver, spleen and kidney from sheep that are thought to have died of RVF are needed to optimally include or exclude a diagnosis. Routine sampling of skin from the ears that have crusts from insect bites might also be a useful adjunct sample since 55% of the skin samples in this study tested positive for RVFV.